URC Global Care Sdn Bhd
No. 16, Lebuh Keluli,
Kawasan Perindustrian
Perdana Bukit Raja,
Seksyen 7,
40000 Shah Alam,
Malaysia.
+603-33438300
+603-33438400
+603-33438600
URC Global Care Sdn Bhd
23, Jalan Lampam 41,
Taman Puteri Resort,
81700 Pasir Gudang,
Johor Darul Takzim.
Roachrepel Herbal Formula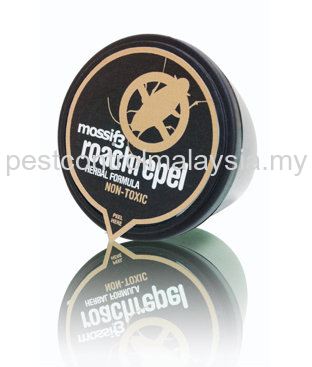 RM 12.90
It's Non-Toxic And Hygienic. Safe And Easy Way To Repel Cockroaches.
It's Better To Repel As Living Or Dead Roaches, Roach Feces, Saliva, Cast Skins, Cockroach Eggs And Their Decaying Body Parts Can Contaminate The Air With AEROALLERGENS And Cause Diarrhea, Dysentery, Cholera And Allergic Reactions In People.
Use Only High Quality Essential Oils Imported From UK Under Governance Of IFRA And CITES For Safety And Sustainability.
Toxic Chemical Control Gives Only Temporary Relief. Periodical Spraying And Environment Maintenance Are Required. However It Causes More Damages To The Environment And Our Water Sources.
Content : 3 Kinds Of Essential Oils, Polymer Gel, Natural Ethanol, Emulsifier And Preservatives.

Last : Once Opened It Last About 650 Hours
Usage : Just Twists Open The Cap And Place It In The Car, Toilet, Cabinet, Storeroom And Kitchen.

Weight : 60gm In Twistable Cap Container.