URC Global Care Sdn Bhd
No. 16, Lebuh Keluli,
Kawasan Perindustrian
Perdana Bukit Raja,
Seksyen 7,
40000 Shah Alam,
Malaysia.
+603-33438300
+603-33438400
+603-33438600
URC Global Care Sdn Bhd
23, Jalan Lampam 41,
Taman Puteri Resort,
81700 Pasir Gudang,
Johor Darul Takzim.
Our Services
>
Others
General Pest Control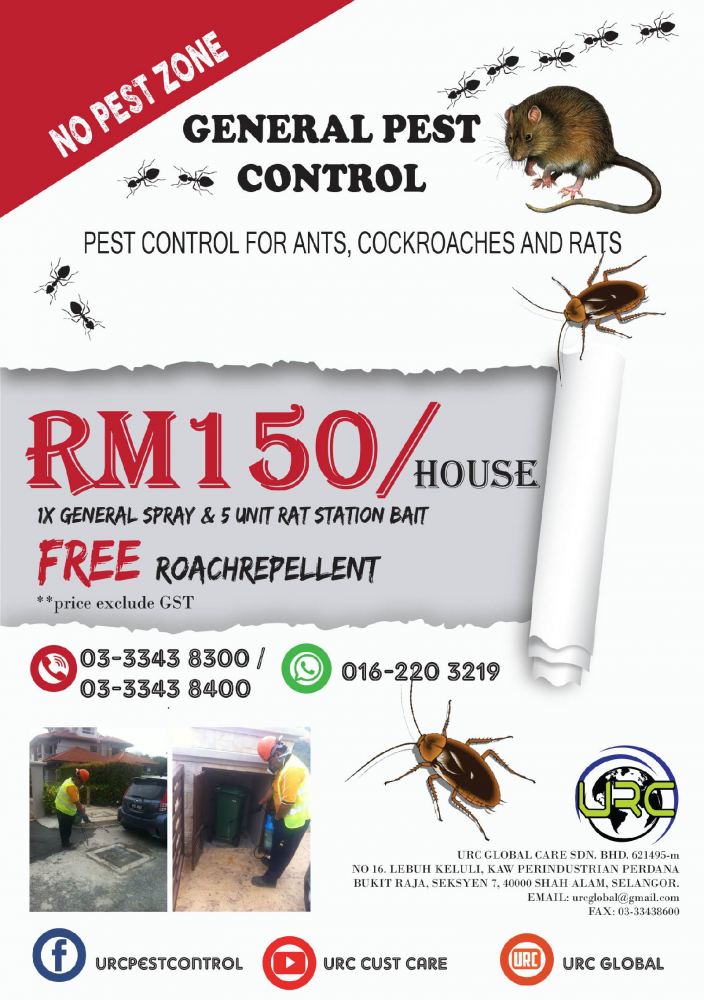 General Pest Control :
Pest Management is a crucial part of your healthy life, food safety and sanitation programs. In a highly regulated industry, expectations on pest prevention and eradication are highly demanded, and treatment options are limited.
Benifits:
Protects your property and reduce the risk of a pest infestation causing health and hygiene problem. The service will continue to control common pests in your home leaving you with a pest and problem free living enviroment.
Our General Pest Management services include:
Rodents
Cockroaches
Ants
Flies and Mosquitoes
Store Pests
Beetles and Weevils
Bees and Hornets
Snakes
Ticks and Fleas
Bed Bugs
Other Nuisance Pests
Aim:

Pest control for ants, cockroaches and rats.
Scope of Works:
Residual spraying using hand pump at all wall areas and roof, spraying of termiticide to all septic tanks, rodents (rats and mice) will be baited at strategic points.


Service Price

+ Price from RM 120/serv
+ Introducing cockroaches control management without using chemical spray